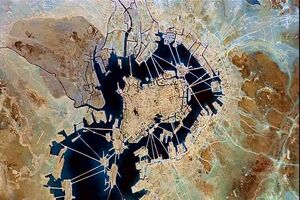 Neo-Tokyo is the enormous metropolis where the entire Akira anime and manga series takes place in. It serves as both the replacement capital and largest city in Japan.
Neo-Tokyo is situated on an enormous, man-made island in Tokyo Bay. The city was built sometime after the end of the Third World War, and is described as a booming, industrial city with the atmosphere of a collapsing one.
As of 2019, the population is 21,451,800 and the total area of the city is 410.32 km2. This would make Neo-Tokyo the most densely-populated city in the world after the original city. Neo-Tokyo is situated right next to the ruins of old Tokyo, which seems mostly derelict.
In the anime, it is stated that the 2020 Olympics will be held there the following year.
Ad blocker interference detected!
Wikia is a free-to-use site that makes money from advertising. We have a modified experience for viewers using ad blockers

Wikia is not accessible if you've made further modifications. Remove the custom ad blocker rule(s) and the page will load as expected.